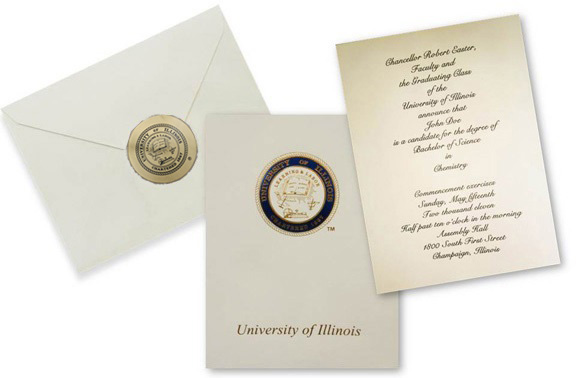 Your hard work is about to pay off! Announce your graduation from the University of Illinois with style! Order your personalized graduation announcements from the Illini Union Bookstore. A package of 25 announcements/thank-you cards/envelopes and gold foil seals is just $65. Other packages and quantities available.
You can also purchase items individually:
A package of 25 personalized graduation announcements, and inner and outer envelopes is $37.50.
Additional announcements are $1.50 each (including inner and outer envelopes).
A package of 25 thank-you cards, including 25 envelopes is $22.99.
A package of 10 informal notecards is $8.95.
A package of 25 Gold foil envelope seals is $7.50.
*PLEASE NOTE:
The personalized graduation announcements will be delivered flat and will need to be folded by the customer.
For information or to order by phone, call 217/333-2050. To order by fax, 217/333-4113, to order by mail send to: Illini Union Bookstore, 809 S. Wright St. Champaign, IL 61820 or stop by! Corner of Wright and Daniel Streets in Champaign. You can download an order form here.